Warning
: getimagesize(https://lh5.googleusercontent.com/X1X0x7v2b8isTqbB6P7dR3gfdHt2lv07KciS45DA4iHHKYdbsqaMMcqRRc3jSHRGfGJo_Ad6vQ0Mvw5jHYPtndLkuniXz-3GqzXpphC8JgEcUlAUadnukzHJeoSV5w): failed to open stream: HTTP request failed! HTTP/1.0 403 Forbidden in
/home/forex-trend-net/htdocs/forex-trend.net/wp-content/themes/x/framework/functions/global/content_modify.php
on line
27
24Option was established in 2008 as an online broker focusing on binary options. Since its foundation, this broker has expanded and began offering services in other markets, hence adding it to the list of international brokers offering global services.
24Option Security and Licenses
24Option is a popular broker that was opened in 2008 under the leading trading brand of Rodeler Ltd. It is a Cypriot firm that has expanded its services way beyond its initial jurisdiction. Since its expansion, 24Option has offered services to the EEA under a Belize license that allows it to run within the specific jurisdiction of the EEA. As a broker, it is highly efficient in providing trading solutions to a number of forex problems, as well as in other markets. It is known to traders as trustworthy and reliable, with its reputation strongly suggesting that it has kept its commitment to complying with industry-grade regulatory standards. It is safe to say that 24Option has maintained a clean reputation over years of service.
Furthermore, 24Option takes its regulatory status with the utmost sincerity. It has maintained itself as a decent brand under the strict rules and standards of the CySEC, the national regulator of the country it is headquartered in. Moreover, its services in the EEA are also legally supported by a regulatory status under the FSC of Belize, which it has recently acquired. All this information further support the fact that 24Option is relied upon by many traders globally, not only for its quality services, but also for the level of security it offers.
24Option Platform Services
24Option used to only offer the trading platform for binary options under TechFinancials to clients, but as part of its expansion, it has developed its own proprietary platform for all clients to utilize. This platform opens many opportunities not only in binary options, but also in other tradable markets, such as foreign exchange and CFDs.
MetaTrader4
24Option uses the famed MetaTrader4 platform to its wide client base. This platform is considered as a classic in foreign exchange trading since it allows beginners and experts to make sophisticated and informed decisions via its various features and tools. It is well-known for having an advanced tools set, charting, and graphs, as well as multiple time frames that let traders maximize opportunities in the market. Its main attractive feature is its user-friendly interface that lets anyone easily navigate it and execute trades and strategies of any complexity. This platform is not difficult to use at all and gives traders the right skills and toolset to make profitable trades any time. It also offers an automation feature that allows users to set automated trades even when they are not currently on the platform.
Mobile Platform
Mobile trading is almost a must in this fast-paced industry. Not every trader has the liberty to trade at the comfort of their homes or offices and with an efficient computer to boot. This makes a mobile platform even more essential for any trader. 24Option ensures that all its clients have the choice to trade on their mobiles whenever and wherever they go. This mobile app offers the MT4 as its main platform and offers the same high functionality and usability of its desktop counterpart. Though some actions are limited, the most important aspects of trading, such as executing strategies, opening positions, and checking your balance and history are available on the app. It is guaranteed to be safe, easy, and secure, and is designed specifically for efficient everyday trading.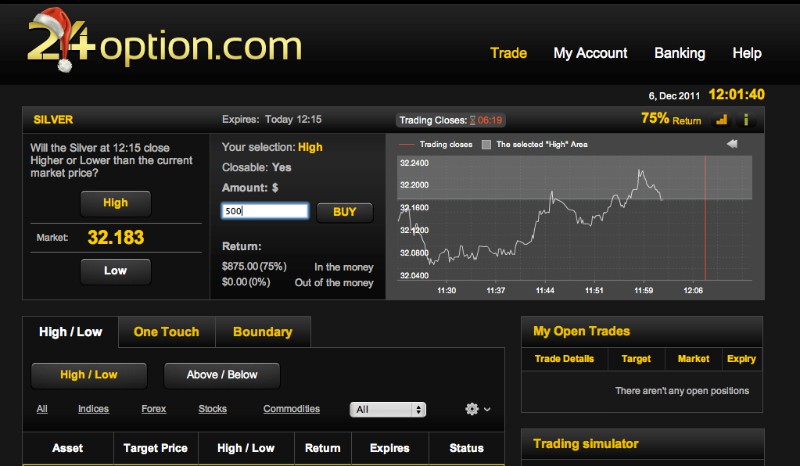 24Option Trading Accounts
When it comes to the actual trading, 24Option knows that a decent range of trading accounts to offer is necessary for a diverse set of clients. Moreover, this broker has up to four accounts to choose from, each progressive one offering bigger perks than the last. Below are the specifications for each one:
Basic Account: Commonly, the first and the cheapest account offered by any broker holds basic features and conditions. This goes the same for 24Option's Basic account which, despite its limited access to various perks, offers the same trading opportunities as its peers. With this account, the trader can expect basic lessons, floating spreads, and an inexpensive deposit for registration.
Gold Account: The second account is highlighted by the additional perks it offers compared to the Basic account. It offers up to two basic lessons, floating spreads, and a monthly webinar.
Platinum Account: From the sound of its name, it can be discerned that this is where the expensive accounts start. This one offers a wider set of perks for the trader, including advanced tools, up to three advanced lessons, three webinars each month, and floating spreads.
VIP Account: The most expensive account of 24Option does give the trader access to VIP features, just as what its title promises. The fourth and last account gives traders easy access to everything that this broker offers. Not only that, but traders also benefit from five advanced lessons, five webinars per month, and floating spreads that work well with high-volume trading. This account is suited for expert traders who actively trade the markets.
24Option Conclusion
24Option is highly regarded in the industry and has proven its commitment to serving at the best interest of their clients. It has a diverse range of features to boast, as well as a good regulatory status from several trusted bodies that support its security. Overall, this broker is highly recommended for traders of all types and levels.