North American Derivatives Exchange, formerly known as HedgeStreet, was founded in 2004. This exchange was the first to offer a low cost, limited risk, and legal way to trade binary spreads and options in the United States. Nadex gives each trader the opportunity to trade assets on a wide range on his desktop or smartphone.
Nadex Regulations and Licenses
Nadex is regulated and licensed to operate in the United States by the Commodity Futures Trading Commission. The CFTC is a government agency and the only regulatory body that authorizes the trading of binary and spreads options in the U.S. The agency's mission is to protect traders from fraud, systemic risk, and manipulation through supervising futures, swaps, and options trading in the markets.
Nadex is fully regulated and one of the few exchanges that are legally operating in the United States. There are several cases where brokers offer trading opportunities in binary and spreads options trading outside of U.S. law or operate in non-U.S. territory.
All funds of Nadex clients are securely kept in trusted US banks. Since Nadex is an exchange, it also does not participate in any form of trading, but only matches traders with buy and sell positions. They operate differently from brokers that offer options trading. Nadex only profits from exchange fees on their platforms, and not through taking any positions in the markets.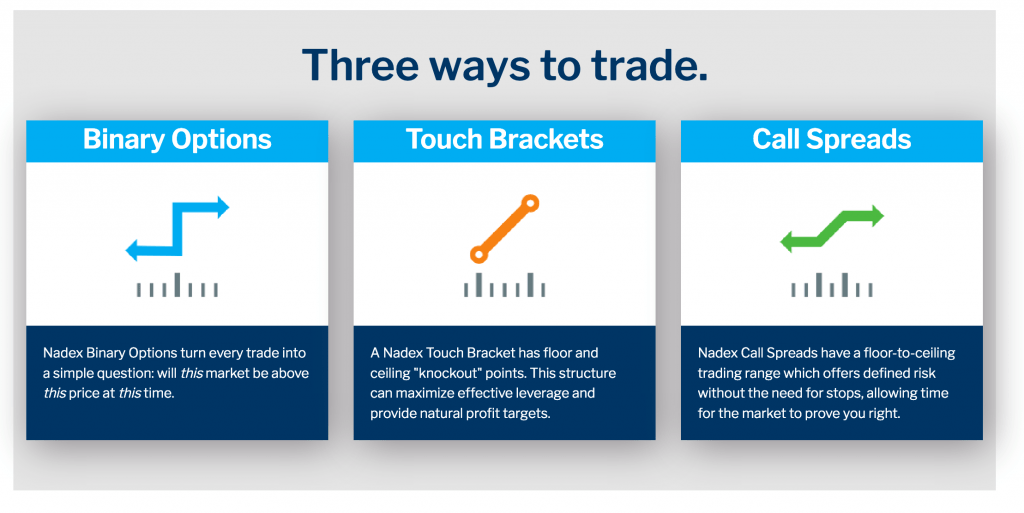 Nadex Trader Platform
The Nadex Trader Platform is the sole platform offered by the exchange. This platform takes traders directly to the Nadex Exchange, where they can expect to get precise pricing and efficient order placement with the display of real-time data. This platform comes in two versions: desktop and mobile.
Nadex for Desktop
This innovative platform allows traders to open positions directly on the exchange. A display of real-time market data of the most important assets are also available on the platform. Traders can filter about 5,000 contracts by class, price, or expiry and they can also place their orders directly from the price chart with a simple click and drag. This platform has a Market Order with Protection feature that allows traders to exit or enter a trade instantly.
NadexGO
This mobile version of the innovative platform is just as efficient as its desktop counterpart. It offers the same functionality and features except that it is more accessible and portable. You can download this app on your iPhone or smartphone. It offers full charting and technical analysis with access to the full range of Nadex's products. Just like the desktop version, this mobile platform also offers full-featured charts, indicators, and drawing tools.
Both versions of the Nadex Trader Platform work seamlessly together. This means that traders can easily switch between the two versions and manage, execute, and check their trading activities.
Nadex Markets and Products
Nadex offers one account that can access all markets and products offered by the exchange. With Nadex, US-based and non-US-based investors can legally trade a wide range of the markets with limited-risk binary spreads and options.
Markets
Stock Indices
You can actively trade on the Nadex Exchange and build your investment portfolio with stock indices such as the US 500, the Wall Street 30, the FTSE 100, and Japan 225. You can trade binary options and spread contracts with the underlying futures prices of the world's stock indices.
Foreign Exchange
You can participate in the world's largest market with Nadex contracts that are fully collateralized. Since your funds are not leveraged in this exchange, you cannot lose more than you invested. This low-risk option to trading exposes beginning traders to the forex markets with only as much as they can afford to lose.
Commodities
Commodities markets are known to trade large volumes and go through high levels of volatility, which is why brokers expect their clients to have a big opening balance. Nadex offers a low-cost and low-risk alternative to trading commodities that even small traders can handle. In this way, the risk/reward profile for traders is better.
Products
Binary Options
Nadex's approach to trading binary options is active short-term, which allows traders to control the risk and define the risk/reward ratio for every trade. Nadex offers the opportunity to view multiple time frames, exit trades early to limit losses or secure profits, and hold contracts to their expiry.
Knock-Outs
Knock-Outs focus on the market movement, where traders are offered three things: Control, Strategy, and Effective Leverage. You can choose the knock-out in a commodity, stock index, or forex market with the acceptable risk level for you. You can set the floor and the ceiling for each trade with regard to your profit target and risk/reward profile. You can also take profit instantly or stop losses when you hit support or resistance.
Call Spreads
Nadex Call Spreads also trade with a predefined floor and ceiling, but it differs from Knock-Out contracts due to two factors. Nadex Call Spreads will only expire at the time it was originally set and it will allow the trader to buy time or give optionality instead. With optionality, the trader can pay for time value to protect a position until it is due.
Nadex Conclusion
US-based Nadex is described to be legal, secure, powerful, and affordable. It is also considered to be among the best exchanges to offer binary and options spreads. It allows traders to define their risk/reward profile and maximizes their potential to trade like experts. It has an efficient platform and a wide range of markets to offer. With its security and legality to operate in the United States, traders can expect a safe and reliable trading.