Financial issues and how these should be handled is the main focus of Dr. James M. Dahle's opus, "The White Coat Investor". Here, the good doctor goes into detail regarding the various ways by which professionals dig a financial trap for themselves and are not able to easily get out. Most of the time, as Dr. Dahle discusses, it becomes impossible to do so once one is knee-deep into the financial turmoil.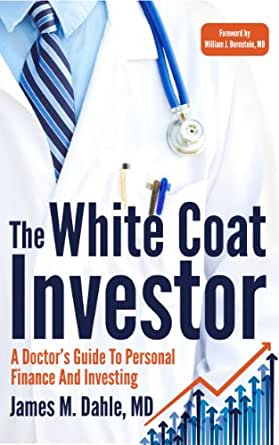 What the Book is All About
The book, "The White Coat Investor" is seen as a "high-yield" manual. It poses professionals in a position wherein they are seen as, while intelligent and trained rigorously in their respective areas of specialization, individuals with a lot to be desired with financial literacy. As this is the case, a lot of hard-working professionals easily make a lot of financial decisions merely because they can; but in the long run, they are left economically-dry.

Table of Contents
The book sees and understands that expenditures can easily turn into expenses, especially when one does not have a clear financial plan. What the book, "The White Coat Investor" does is that it scaffolds professionals into making informed decisions so that financial grievances would be kept at bay. The book effectively discusses it includes the following chapters:

Chapter 1: The Big Squeeze:
This part tackles how tuition that constantly goes up, lowering reimbursement, and regulatory headaches sabotage your professional life.

Chapter 2: Millionaire by 40
This chapter gives you the skinny to build a net worth with 7 figures within only 5 to 10 years from residency.

Chapter 3: If I had a Million Dollars
These chapter mentors professionals how they can go about accumulating wealth by effectively saving income and vice versa.

Chapter 4: Medical School and Your Wealth
This part assists professionals in choosing the right school and expertise to dignify a specific professional aim.

Chapter 5: Residency and Your Wealth
This part goes through financial steps a professional can take as a resident.

Chapter 6: The Secret to becoming a Rich Doctor
This part goes into a set of tips on how one can get out of debt, purchase his or her dream house, and building a family within 5 years of residency graduation.

Chapter 7: The Retirement Number You Control
This discusses why one's savings are more pertinent compared to returns of investment.

Chapter 8: The Motorway to Dublin
This stresses how one can avoid making bad investments and useless purchases.

Chapter 9: Getting Off the Motorway
The chapter discusses the advantages of investing in real estate, life insurance, private investments, and one's house.

Chapter 10: Paying the Help
This discusses how one can get good advice for a reasonable price.

Chapter 11: The Basics of Asset Protection
This part gives a lengthy discussion of how one can protect his or her funds from lawsuits.

Chapter 12: Estate Planning Made Simple
This chapter walks through readers on how to avoid estate taxes, how heirs can be safeguarded, and avoid probate.

Chapter 13: Income Taxes and the Physician
This part is an analysis of why people pay handsome amounts for taxes and what can be done about it.

Chapter 14: Choosing a Business Structure
This is a discussion on why, instead of being protected, incorporation of business will still expose it to risks and how it would still be subject to paying a lot of taxes.

Chapter 15: Enjoying the Good Life
Simply, this part teaches a professional on how to live a life free of financial worries.

Chapter 16: The Mission of The White Coat Investor
This is a lengthy discussion on how doctors can protect themselves from always being ripped off.

The book, "The White Coat Investor", while seen to have a misleading title, has been enjoyed and praised by the financial community. It had given positive reviews in light of it being able to get a pulse of the working professional and analyze the usual financial problems that come their way. Dr. Dahle had done well by being able to educate himself so that he can educate others. Dr. Dahle has publications such as "Medical Economics," "Ophthalmology Business," and had even been a part of the manual entitled "The Bogleheads Guide to Retirement Planning."

The medical and financial community agree that the book, "The White Coat Investor," is a result of legitimate experience and good financial education.